K209B LSZH Armoured Optical Fiber Cables
Application
The cables are designed for long distance telecommunication and using optical fibres in urban railways infrastructure. These low smoke halogen-free cables are laid on hooks, pulled through ducts or cable trays.
Standards
Construction
Compact Tube: 6 or 12 singlemode optical fibres G652 or multimode fi bers assembled under thermoplastic "peelable" skin. Tube diameter: 1mm.
Filling: Water-swelling yarns.
Tube: Thermoplastic.
Peripheral Strength Member: Water-swelling glass yarns.
Armour: Corrugated steel tape armour 25/100.
Sheath: LSZH.

Optional

K209A Type: For K209A type, the cables have loose tubes with 6-12 fi bers, steel wire strand as central strength member, glass yarn reinforced, incorporating a corrugated steel tape armour and an outer UV stabilized LSZH jacket.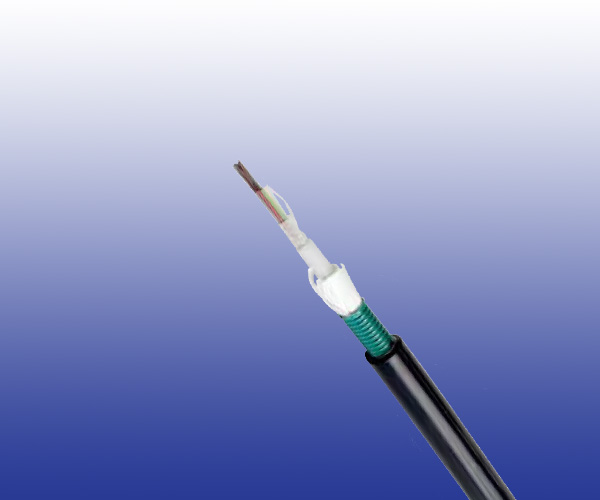 Electrical Characteristics at 20℃
Optical & Geometrical Properties for Single Mode Fibers
| | | |
| --- | --- | --- |
| Maximum Attenuation | | G652 |
| @1310nm | dB/km | 0.35 |
| @1550nm | dB/km | 0.22 |
| Maximum Chromatic Dispersion | | |
| Between 1260 and 1360nm | ps/(nm/km) | 3.5 |
| Between 1530 and 1565nm | ps/(nm/km) | 19 |
| Zero Dispersion Wavelength | nm | 1310±11 |
| Zero Dispersion Slope | ps/(nm2.km) | 0.09 |
| Numerical Aperture | | 0.14 |
| Point discontinuity | dB | 0.1 |
| PMD (individual fi ber) | ps/km | 0.2 |
| Maximum Cutoff Wavelength | nm | 1260 |
| Cladding Diameter | um | 125±1 |
| Core/Cladding Concentricity Error | um | ≤0.5 |
| Cladding Non Circularity | % | ≤1 |
| Coating Non Circularity | % | ≤6 |
| Proof Test Level | Kpsi (GN/m2) | 100 (0.7) |
| Crush Resistance | N/cm | 300 |
| Maximum Laying Tension | N | 3000 |
Optical & Geometrical Properties for Multimode Fibers
| | | | |
| --- | --- | --- | --- |
|   | | 50/125 | 62.5/125 |
| Maximum Attenuation | | | |
| @850nm | dB/km | ≤2.5 | ≤3.0 |
| @1300nm | dB/km | ≤0.7 | ≤0.8 |
| Maximum Chromatic Dispersion | | | |
| @850nm | MHz*km | ≥500 | ≥200 |
| @1300nm | MHz*km | ≥800 | ≥500 |
| Zero Dispersion Wavelength | nm | 1310 | 1310 |
| Numerical Aperture | - | 0.20±0.015 | 0.275±0.015 |
| Core Diameter | um | 50±3 | 62.5±3 |
| Cladding Diameter | um | 125±2 | 125±2 |
| Core/Cladding Concentricity Error(Offset) | um | ≤1.5 | ≤1.5 |
| Coating-Clad Concentricity Error(Offset) | um | ≤8 | ≤8 |
| Core Non-Circularity | % | ≤6 | ≤6 |
| Cladding Non-Circularity | % | ≤2 1 | ≤2 1 |
| Coating Diameter | um | 245±10 | 245±10 |
| Proof-Test Level | Kpsi (GN/m2) | 100 (0.7) | 100 (0.7) |
Mechanical and Thermal Properties
Bending Radius: 20×OD
Temperature Range: -40℃ to +60℃ (during operation); -10℃ +60℃ (during installation)
Dimensions and Weight
K209A
Cable Code
No. of
fibres
Distribution
Nominal
Sheath
Thickness
mm
Nominal
Overall
Diameter
mm
Nominal
Weight
kg/km
RO/K209A-ML-C-9-TnxFn-SR-(STA)H
1-36
6 fi bre per tubes
1.8
12
190
RO/K209A-ML-C-9-TnxFn-SR-(STA)H
42-72
6/12 fi bre per tubes
1.8
13.5
230
Tn: Number of tubes; Fn: Number of fi bers in a tube
K209B
Cable Code
No. of
fibres
No of Tubes x No of
Fibers/Tube
Nominal Sheath
Thickness
mm
Nominal Overall
Diameter
mm
Nominal
Weight
kg/km
Singlemode Fibres From 6 to 36 OF – G652
RO/K209B-ML-C-9-2x6-F-(STA)H
12
2 tubes of 6 OF
1.8
13
112
RO/K209B-ML-C-9-4x6-F-(STA)H
24
4 tubes of 6 OF
1.8
13
112
RO/K209B-ML-C-9-6x6-F-(STA)H
36
6 tubes of 6 OF
1.8
13
112
Singlemode Fibres From 48 to 72 OF – G652
RO/K209B-ML-C-9-8x6-F-(STA)H
48
8 tubes of 6 OF
2.5
15.5
230
RO/K209B-ML-C-9-6x12-F-(STA)H
72
6 tubes of 12 OF
2.8
15.5
230
Multimode Fibres From 6 to 36 OF – 50/125
RO/K209B-ML-C-9-1x6-F-(STA)H
6
1 tubes of 6 OF
1.8
13
112
RO/K209B-ML-C-9-2x6-F-(STA)H
12
2 tubes of 6 OF
1.8
13
112