MD4 Medium Distance Trackside Telecom Cables
Application
The cables are designed for long distance of over 10km telecommunications alongside railway lines.
Standards
SNCF CT 2328 (Main cables) /SNCT CT 2329 (Branch cables)
Construction
CT2328 Type (Main Cables)
Conductors: Sol id copper, 0.8mm nominal diameter
Insulat ion: Coloured sol id polyethylene.
Cabling Element: Four conductors are twisted together to form a quad.
Possible Harness: Aluminium screen.
Filling: Petroleum jelly.
Screen: PE-copolymer coated aluminium tape.
Drain Wire: Tinned drain wire.
Inner Sheath: Low density polyethylene.
Screen: One corrugated copper tape.
Intermediate Sheath: Low density polyethylene.
Armour: Two helically applied steel tapes.
Outer Sheath: Low density polyethylene.

Optional

CT2329 Type (Branch Cables): For CT 2329 type, the cables have PE inner sheath, double corrugated steel tapes
armour and PE outer sheath, without aluminium tape screen & copper tape.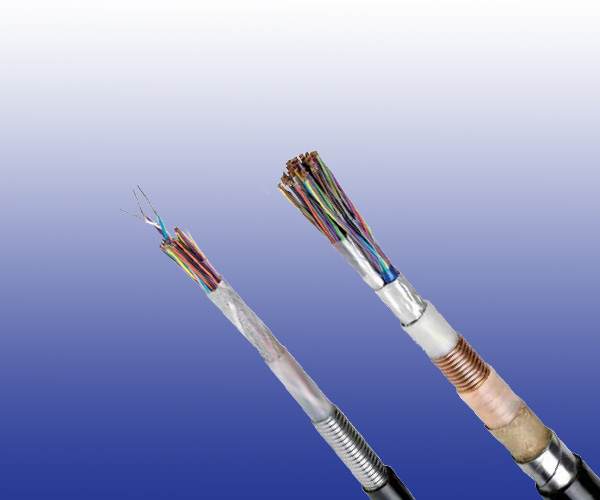 Electrical Characteristics at 20℃
| | | |
| --- | --- | --- |
| Nominal Conductor Diameter | mm | 0.8 |
| Maximum Conductor Resistance (DC) | Ω/km | 73.4 |
| Minimum Insulation Resistance @500 V DC (3mins) | MΩ.km | 15000 |
| Mutual Capacitance @800Hz | nF/km | 51 |
| Average Capacitance Unbalance | | |
| Main Cables | | |
| In quad | pF/1450 m | 50 |
| Between quads | pF/1450 m | 30 |
| Real-ground | pF/1450 m | 200 |
| Branch Cables | | |
| In quad | pF/1450 m | 100 |
| Between quads | pF/1450 m | 100 |
| Real-ground | pF/1450 m | 700 |
| Maximum Attenuation @1MHz | dB/km | 15.9 |
| Maximum Reduction Factor for Main Cables @100V/km 50Hz | | |
| 14 quads | | 0.3 |
| 21 quads | | 0.2 |
| 28 quads | | 0.18 |
| Dielectric Strength (DC voltage 1min) | | |
| Conductor to Conductor | V | 1500 |
| Conductor to Screen | V | 3000 |
Mechanical and Thermal Properties
Bending Radius: 10×OD

Temperature Range: -40℃ to +60℃ (during operation); -10℃ +60℃ (during installation)
Dimensions and Weight
CT2328 (Main cable)
Cable Code
No. of Quads
Nominal Sheath Thickness
mm
Nominal Overall
Diameter
mm
Nominal Weight
kg/km
Inner
Interm.
Outer
0.8mm Conductor, 1.27mm Insulated Wire
RS2328-2Y2Y(K)2YB2Y-14Q0.8
14
1.2
1.1
2.2
29.2
1332
RS2328-2Y2Y(K)2YB2Y-21Q0.8
21
1.3
1.3
2.5
31.3
1655
RS2328-2Y2Y(K)2YB2Y-28Q0.8
28
1.3
1.3
2.5
35.5
2013
CT2328 (Main cables with screened quads)
Cable Code
No. of Quads
Nominal Sheath Thickness
mm
Nominal Overall
Diameter
mm
Nominal Weight
kg/km
Inner
Interm.
Outer
0.8mm Conductor, 1.27mm Insulated Wire
RS2328-2Y(L)2Y(K)2YB2Y-(14+7)Q0.8
14+7screen Quads
1.3
1.3
2.5
32.7
1765
RS2328-2Y(L)2Y(K)2YB2Y-(18+3)Q0.8
18+3screen Quads
1.3
1.3
2.5
32.9
1783
CT2329 (Branch cable)
Cable Code
No. of Quads
Nominal Sheath Thickness
mm
Nominal Overall
Diameter
mm
Nominal Weight
kg/km
Inner
Outer
0.8mm Conductor, 1.4mm Insulated Wire
RS2329-2Y2YB2Y-4Q0.8
4
1.0
1.7
16.4
339
RS2329-2Y2YB2Y-8Q0.8
8
1.2
1.8
18.8
477
RS2329-2Y2YB2Y-14Q0.8
14
1.2
2.2
22.3
686